Just off Route 66, Sky City Casino and Hotel's spacious suites are likely the most comfortable and spacious in Western New Mexico. The parlor room in each suite includes balcony, sliding glass door, wet bar, refrigerator and microwave. All suites include a spacious bathroom with jetted tub. Our 1-bedroom suites feature a King size bed and a Sofa bed.
For a special experience treat yourself to The Governor's Suite. Sky City Casino and Hotel offers two of these special 2-bedroom suites available with 2 King size beds and a Sofa bed.
Our Triple Diamond Rated guest rooms include everything you need for rest and relaxation. Slumber in dreamy beds, then wake up refreshed for another day at play. All guest rooms include:
Coffee Maker
Iron/Ironing Board
Hairdryer
Free Showtime
Complimentary WiFi
Please excuse the construction throughout areas of the hotel, look forward to new and exciting improvements soon!
-Thank you, Sky City Hotel Management
Sky City Hotel Guest Information
Parking is available on the west and east side of the Hotel and parking lot south of the Casino.
Luggage and additional guests drop off and pick up is located at the Hotel canopy entrance.
If you are in need of a luggage cart, please load and unload items in Hotel canopy entrance. Do not remove carts beyond Hotel canopy entrance. Please return carts to Hotel lobby.
Only Service Dogs are permitted to stay in the Hotel, therapy animals are not allowed.
Fitness Room is currently closed, Pool & Jacuzzi are open for the spring/summer season.
Dining options include Huwak'a Restaurant Dine-in, Haanú Snack Bar, Sky City Travel Center, and McDonald's.
Hotel guests will not be allowed to charge meals from the Huwak'a Restaurant. This service is available for pick-up only (to order call 505-552-7852).
Vending areas are available with snacks and beverages.
Sky City Casino/Hotel is smoke-free except for Hotel patio, which is the designated smoking area.
Checkout time is at 11 am, we do not offer any late checkouts.
Please use the Main Hotel Lobby entrance as the only entrance and exit to the property, all other entrances are emergency exits only and armed with an alarm.
Sky City Casino/Hotel reserves all rights. Any violations of Hotel Policy and Procedures will result the removal from the property.
Here for a wedding in our conference rooms and forgot your toothbrush – we got you covered. Stop by the Sky City Hotel Gift Shop where you can also get the most unique wedding gift - world renowned Acoma Pottery and other locally hand-crafted gifts.
Our Sky City Hotel Gift Shop also offers incredible Native American hand-made jewelry, created by local silversmiths and for sale at what other shops would call "wholesale prices".
Hotel Gift Shop - Open Daily 12pm-8pm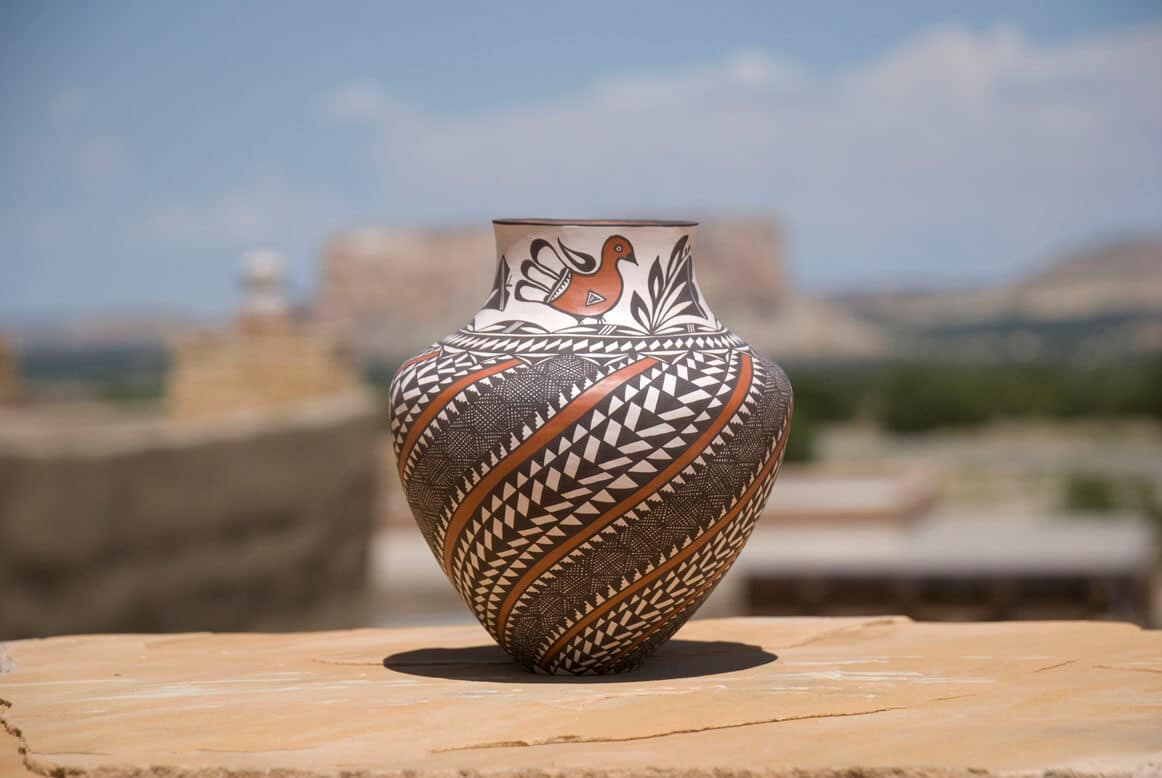 In addition to meeting space and A/V rental, events and exhibit space will satisfy group demands for weddings, banquets and special events. Sky City also offers on-site special event catering.
For information contact Sales & Catering at (505) 552-1084.